First drive: The SsangYong Musso proves cheap workhorses can be cheerful
Rebecca Chaplin gets behind the wheel of Korean brand SsangYong's latest product – the new Musso pickup
What is it?
If you haven't heard of SsangYong before we'll forgive you. Currently, the South Korean brand is only selling around 1,500 cars a year – all SUVs and pick-ups – and it's mainly focused on rural areas and buyers who need them for work. While its range sells in small volumes, the brand has breathed fresh life into the latest editions, offering attractive but affordable cars. This is its new Musso, a pick-up with some serious towing capabilities.
What's new?
The new Musso has had a makeover to look more stylish on the road. Its biggest appeal is its payload and towing capacity – able to bear a braked trailer load of 3,500kg paired with the automatic gearbox and carry a 1,085kg payload. It also has a surprisingly premium feel inside, with comfortable seats, a quiet drive and plenty of creature comforts for less than £30,000.
What's under the bonnet?
There's one engine option in the Musso, and it's a 2.2-litre diesel that's ideal for load lugging. It's available as either a six-speed manual or automatic, but in this case we tested the auto. All models come with part-time four-wheel drive. That gives you the option to switch to all-wheel power and the option of hill descent control, if needed. It has a top speed of 115mph from its 179bhp engine, that will achieve between 32.9 and 35.8mpg on a combined cycle. It also produces 211-226g/km of CO2, which currently puts it in the 250g/km vehicle excise duty band.
What's it like to drive?
The double cab of the Musso is undisturbed by the engine noise when out on the road, even at high motorway speeds. However, when going this fast, the slightly disconnected steering suffers from the shakes. Cruising around the countryside though, this pick-up is comfortable and it tackles the big bumps off road well, thanks to the four-wheel drive. The low ride height and suspension that's designed to carry weight does mean that the small bumps are very noticeable out on the road, though.
How does it look?
SsangYong has made a very attractive car with a nice fit and finish. If you can get past the relatively unknown badge – which for some loyal buyers will be difficult – the car is stylish and stands out on the road thanks to that distinctive grille and light formation. The top-spec Musso Rhino is a real show-off with grab rails and plenty of chrome to grab the attention of passers-by, too.
What's it like inside?
Depending on how you'll use it, the Musso has plenty of interior choices. Hard-wearing but attractive TPU seats are available, but there's also cloth and leather for those demanding a more premium pick-up. The cab is spacious with plenty of storage. However, the finish isn't as high-end as other options on the market – but you'll save a pretty penny with the SsangYong and won't be disappointed with the quality. The infotainment system is available with either an eight- or 9.2-inch screen, kitted out with satellite navigation, DAB, Bluetooth and CarPlay or Android Auto.
What's the spec like?
Available in EX, Rebel, Saracen and Rhino specifications, the Musso can do basic and functional or over the top and showy. However, the entry-level cars are available for less than a new Ford Focus at £19,995 and go up to £28,254. SsangYong predicts the base-spec EX won't be particularly popular in the UK, featuring 17-inch alloys and Bluetooth capability. Step up from that to the £22,495 Rebel option with 18-inch alloys as standard, roof bars, an eight-inch touchscreen and heated seats. The £24,995 Saracen adds a 9.2-inch screen and leather seats, and for £28,245 you can get the aforementioned top-spec Rhino.
Verdict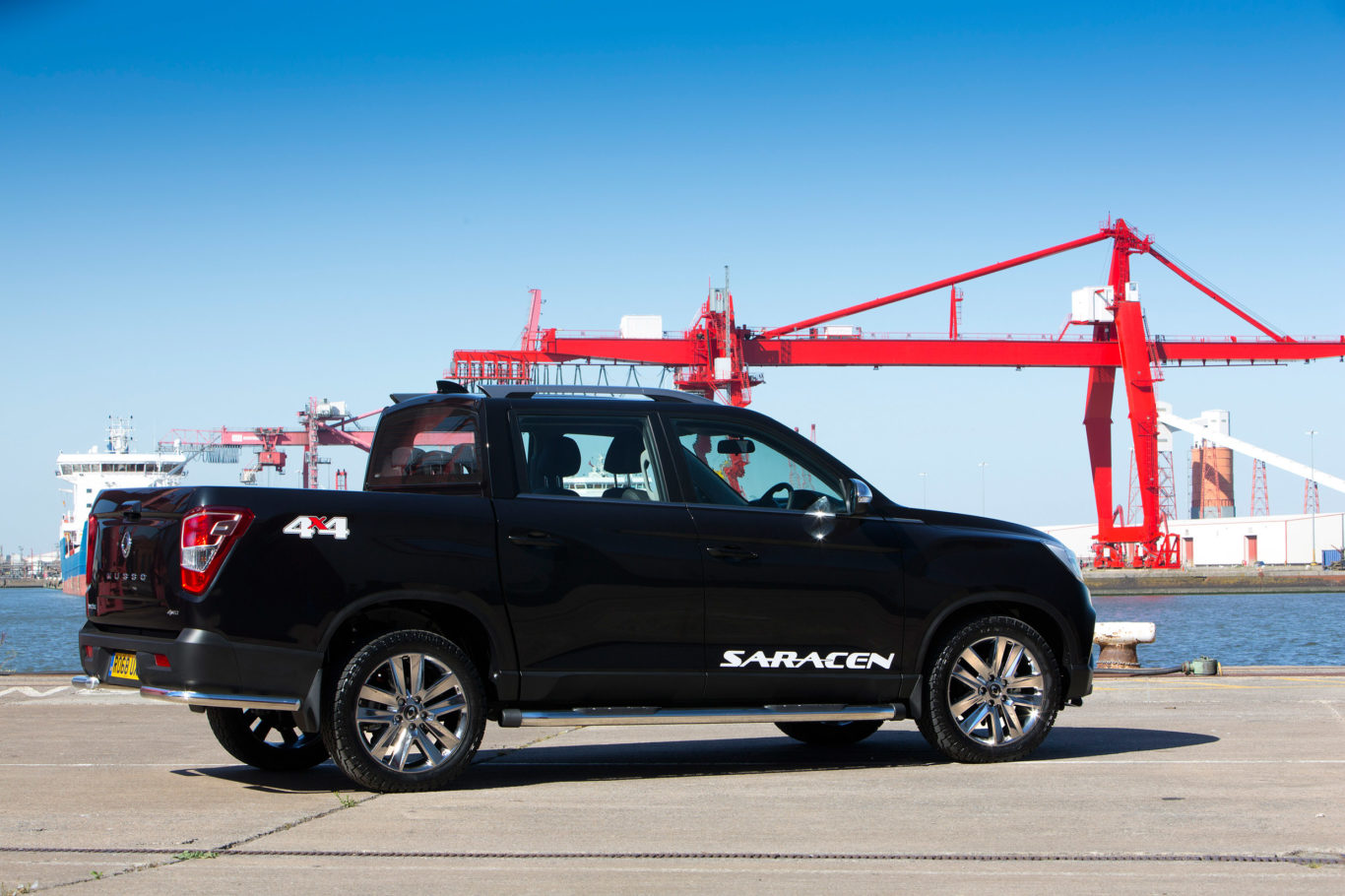 If you have a huge budget this may not be the car for you, but if you're looking for something affordable that offers loads for your money then the Musso could be it. It has a tonne of appeal if you're looking to carry around a lot of weight and use it as a workhorse on a daily basis. The combination of price, looks, comfort and towing power will work for a lot of drivers – if they can get past the badge and behind the wheel for a test drive.

Sorry, we are not accepting comments on this article.